HARARE – The MDC says armed men believed to be Central Intelligence Organisation (CIO) operatives attempted to abduct party leader Nelson Chamisa as he returned to Harare from a rally in Marondera late Saturday afternoon.
MDC spokesman Jacob Mafume said Chamisa's convoy was blocked by a vehicle – one of six that have been observed tailing the opposition leader's motorcade – near Mabvuku, a suburb of Harare.
An attempt had been made to "retrieve" Chamisa from his vehicle, but this had been foiled by the MDC leader's security, Mafume said.
The alleged abduction attempt was captured on video.
After failing to take Chamisa, the alleged CIO agents then grabbed his driver and bundled him in their vehicle, a silver Toyota Harrier. Without care for his own safety, Chamisa jumped out of his vehicle and is seen attempting to pull his driver out of the Toyota, before he is pulled back by his security team.
The vehicle then speeds off with Chamisa's driver, who manages to open the door and jump out after several meters.
Explaining the dramatic events, Mafume said: "We had an altercation with the CIO. About six cars followed president Nelson Chamisa's convoy from Marondera. They then blocked the convoy in Mabvuku, blocked the presidential car, and tried to retrieve Chamisa.
"Our security managed to block them from taking him, or taking part of his personnel. When they were blocked, they then took one of the security guys in the security team who then jumped out of a moving car as they drove off with him."
Mafume said they had previously taken down number plates of suspicious vehicles tailing the MDC leader, which were reported at Avondale Police Station as well as Harare Central Police Station "but nothing has
"The (six) cars are the same cars that have been following him around," he said. "Today has been their first brazen attempt to actively block the motorcade and also interfere with Chamisa's movements. He is currently safe, the security managed to block them from taking him and Mabvuku residents came out upon seeing the altercation. When the crowd swelled, they then fled but the number plates have been noted and submitted to the police."
A police report had been filed at Mabvuku Police Station, he said.
Tendai Biti, the MDC's deputy national chairman, said on Twitter that the attempted abduction was "shocking and unacceptable".
"We have now descended fully into a vicious fascist State. What is wrong with this blood-thirsty President?" he said on Twitter.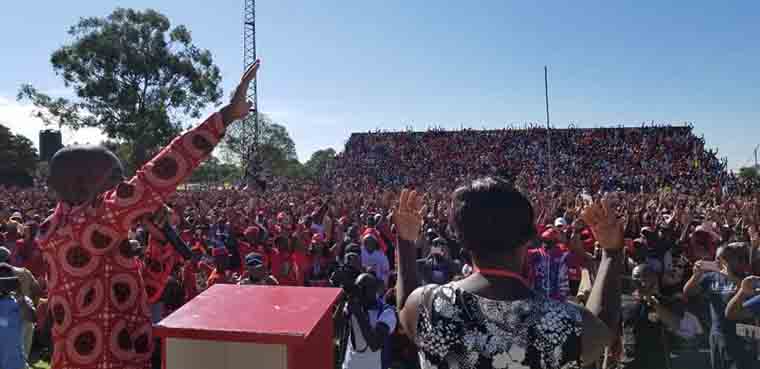 Chamisa has been holding what the party says are "thank you" rallies  countrywide to show appreciation to supporters who voted for him on July 30.
He lost the election narrowly to President Emmerson Mnangagwa of Zanu PF, but the MDC claims there was massive electoral fraud and Chamisa has refused to concede to his rival.
MDC officials say the rallies will culminate in street protests in urban centres to "reclaim our vote", which is being interpreted in Zanu PF as an attempt to force out Mnangagwa's regime through mass public protests.
Home Affairs Minister Cain Mathema warned the government would "crush" the protests.