HARARE – An elite Zimbabwean school was forced to take down a tweet on Tuesday after it created an internet uproar amid racism allegations.
A second tweet put up to calm the anger was criticised for perpetuating black stereotypes.
Peterhouse Group of Schools, a private boarding institution near the town of Marondera in Mashonaland East, ignited a social media firestorm after posting a picture depicting five black boys dressed in animal hides in what looks like a battle scene, with one menacingly aiming a spear at a serene white pupil sat down with back leaning against a tree whilst reading a book. One pupil, black, lies on his back nearby, apparently dead.
"Peterhouse Book Day was held on 23rd of March. We decided to change it up a bit this year by introducing an Extreme Reading Challenge, where members of staff would encourage their students to read in unorthodox," a caption accompanying the picture said.
The post drew hundreds of comments, with many saying it was offensive to black sensibilities.
"Peterhouse depicted African warriors as disruptive savages that are interrupting civilisation, i.e the white boy peacefully reading," said Tendai Matshika on Twitter.
"What I read from this image is: 1. Black boys don't read. Reading is a white thing. 2. Young black Zimbabwean boys in 2019 are involved in tribal wars with spears. 3. Blacks are faceless (besides their skin, their faces are unidentifiable unlike whites)," weighed in Steve Chikotsi on Twitter.
Said Sir Ashton: "Given our hurtful colonial past, that Peterhouse picture is in bad taste and I don't understand why anyone would defend it."
Blasted one Jamwanda: "What is this image meant to convey? That natives are brawn and whites are about brains? Shame on you Peterhouse for such bald colonial racial stereotypes. Is this what our children are being taught or subjected to? Disgusting!"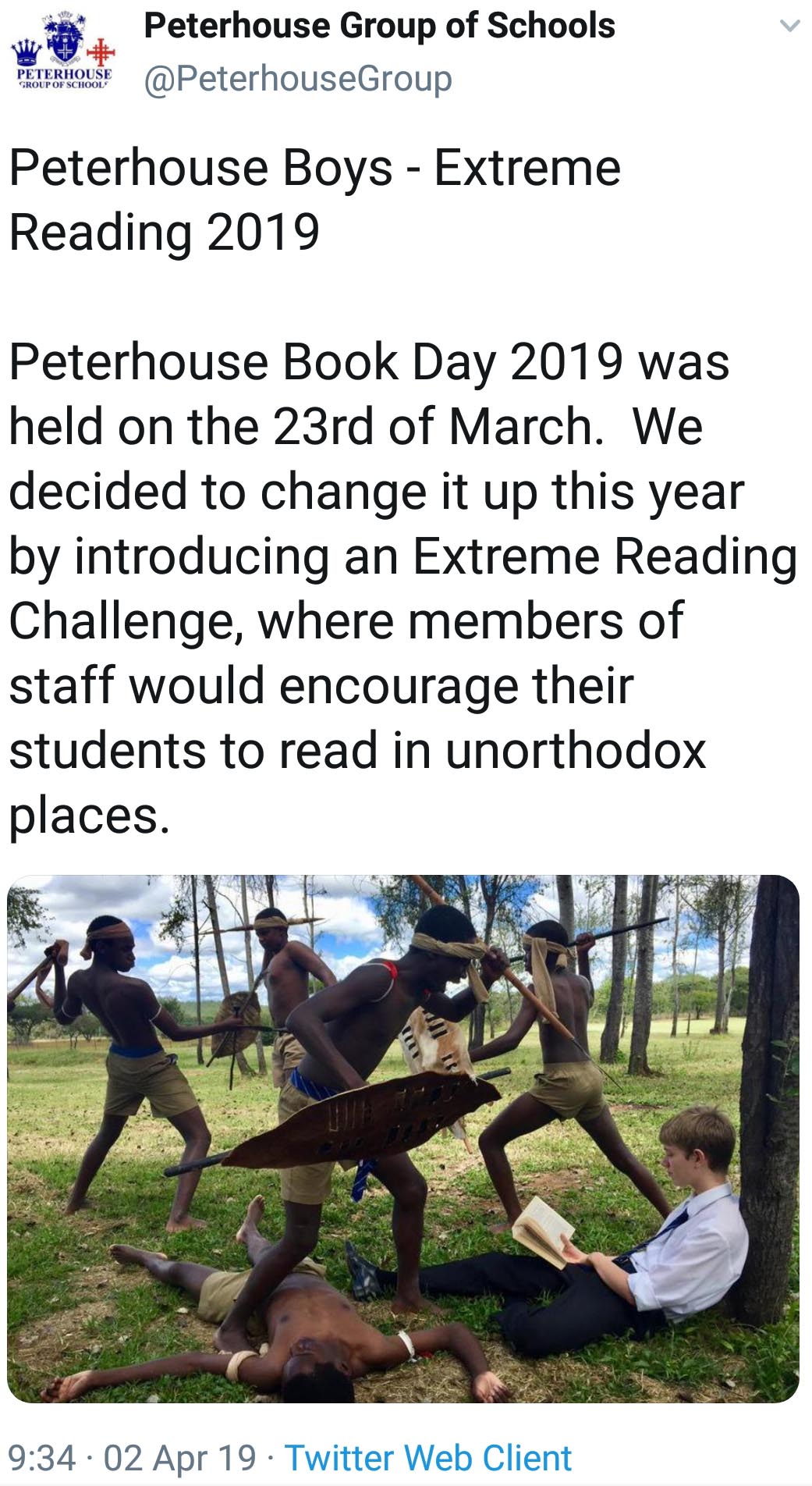 Not everyone saw it as racist, however.
After another Twitter user posted a different picture of two boys, one white and one black, holding a black classmate aloft as he reads a book, Wellence Mujuru mocked those finding offence in the other picture.
"So, on this one… the white kid lifted up the black to show how supreme, powerful the white people are?"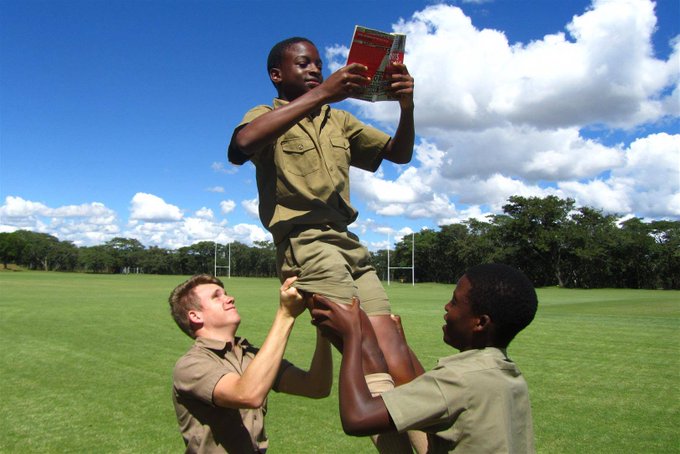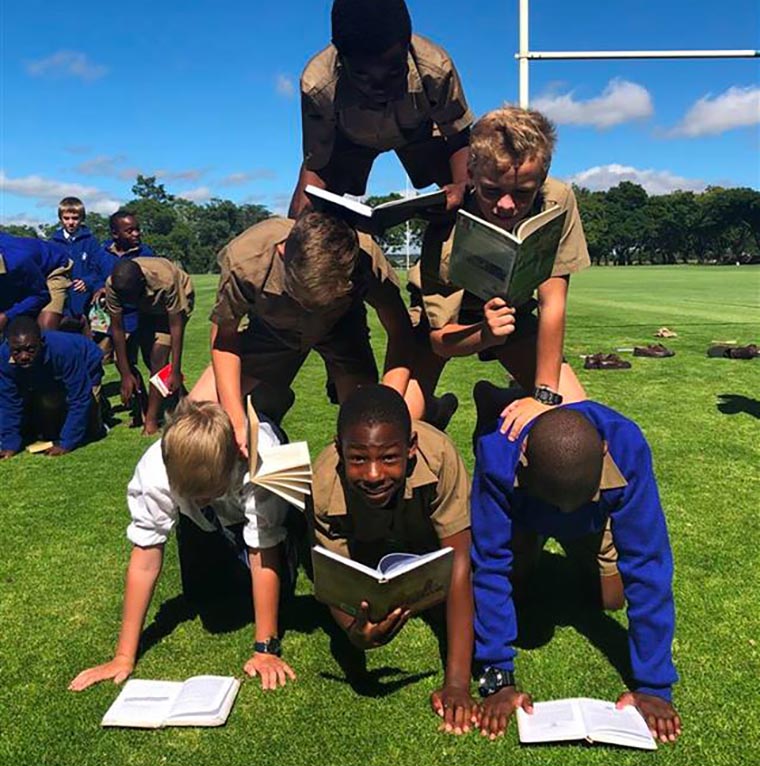 "Dear Zim Twitter. Please leave the Peterhouse kids alone. Your fake rage should be rather directed at our evil government smh (shaking my head)," said Simba Mandiveyi.
Peterhouse, after several hours, deleted the post and replaced it with another showing pupils reading books while seated on chairs inside a shallow fountain pool, their feet in water. That too did not go down well with some.
Peterhouse Boys – Extreme Reading 2019

Peterhouse Book Day 2019 was held on the 23rd of March. We decided to change it up this year by introducing an Extreme Reading Challenge, where members of staff would encourage their students to read in unorthodox places. pic.twitter.com/hTFVqj0bOJ

— Peterhouse Group of Schools (@PeterhouseGroup) April 2, 2019
"In a way this is even more racist because it implies blacks think getting in a pool is extreme," reacted Phlynt Phlossy.
"Peterhouse was like f*** them blacks. Let's post blacks in water where one cannot even think of putting their legs in. Let's show how uncivilised they can be," tweeted someone called Major.
Peterhouse posted over a dozen images showing its pupils enjoying enacting scenes of extreme reading on their Facebook page. The one picture they selected for the Twitter post, however, without the wider context, grew a life of its own.
The debate on social media veered off to cover intrinsic racism in many private schools.
A former Peterhouse student, T.M Muringani wrote a thread on Twitter, stating: "Peterhouse Group of Schools remains the best school in the country. It has overcome many issues pertaining to race and exclusion of blacks within its ranks staffing issues etc. Very progressive institution providing the best facilities in the country.
"That having been said. There was, and maybe still is many issues that need to be addressed about the institutional culture at Peterhouse. I remember a time when we had a debate with the Rector pertaining to the headboy issue that had seen only white heads for some years.
"The question was simple, was there no black pupil equal to the task? This seems to have since been addressed, as well as many other issues thereto. We do, however, need to have continued debates about racism in these spaces. And how those cultures can be debunked.
"To my beloved school, it's high time that institutional cultures within the entire Peterhouse system be addressed. You provide a very good product, but if institutional cultures are still intact and not sensitive to historical issues, then you have effectively achieved nothing in the long run. Lessons can be learnt from other institutions such as Oxford University that is making major steps towards debunking institutional racism and ensuring the environment is welcoming to all races."
"Zimbabwean private schools are racist and urgently need to decolonise. They literally force black kids to assimilate into whiteness under the guise of 'standards'. They indoctrinate black kids to view their native languages or culture as backward. Trash," said ZimHipster.
Others said parents always have an unlimited choice of schools to send their children – if they believe certain schools are not good for their children for whatever reason.